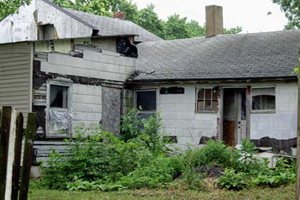 The owners of Marietta Affordable Housing (MAH) came to us exasperated. They had gone through two management companies over the last 5 years and were not able to increase their profitability, couldn't get an accounting of funds, and were receiving code violations constantly.
After a quick analysis of the properties, we determined:
1. The rents and deposits were too low. For a 3 bedroom, 1 bath home (about 1200 sqft), the rent was set between $750 and $900 with security deposits at $500-$800.
2. Tenant repair requests had been ignored by the last property management company thereby allowing the damage to fester into bigger problems.
3. No background or credit checks were performed on tenants.
4. Leases were loosely written and no regular oversight or inspections were performed. The condition of most of the homes was poor and several were were roach-infested.
5. "Deals" were often struck: The tenant could reduce the rent if he made repairs and improvements. From our inspections, the tenant said they made the repairs and upgrades but actually did not and the "improvements" were not improvements at all. Upgrades made were often unattractive.
6. There were no reports or statements provided to the Owner and Owner draws were mailed sporadically throughout the month. There was no accounting of the monthly rents and repairs making reconciliation impossible for MAH.
Here's what we did:
1. Performed and documented full inspections on every property and met every tenant. We discussed the lease and code violations with the tenants, sent them a written letters about the violations with deadlines, and followed up to ensure performance. All tenants complied.
2. We put the habitual late and short pay tenants on notice. We evicted 4 tenants whom were 3 and 4 months behind in rental payments, accepted termination notices from 2 tenants, and the rest caught up and continue to pay on time today.
3. When we started managing these properties, there were 3 vacant homes. Within 2 weeks, the homes were cleaned up and listed. We marketed the 3 bedroom, 1 bath homes for $1150 and leased them in less than 14 days to excellent tenants.
4. As each lease expired, we renewed leases with a rent increase of $50 to $100. Our leases are stricter and we have moved nearly all previous tenants to online payments. Rent due dates were moved from the 5th of the month to the 1st of each month with no grace period. Rent is late on the 2nd, late charges are billed and evictions are started if they fail to pay by the 3rd. As a result, the Owner receives their rents between the 6th and 10th of each month so they can pay their mortgages on time and without borrowing.
5. Because pets are a major cause of damage and odors in the homes that turned over, we implemented a monthly pet rent of $50 to $100 with a weight limit of 25 pounds and a strict pet agreement.
6. We perform all repairs to ensure they are completed and done property. Tenants are no longer allowed to deduct anything from rent or do their own repairs and upgrades.
7. MAH now has online access to their portal where they can view and download Tenant leases and documents, maintenance requests, and inspection reports and we directly deposit their monthly draws by the 10th of each month.
We were able to turn their losing situation into a winning portfolio. The owners of Marietta Affordable Housing are now able to see their investment growing and their stress level has diminished!