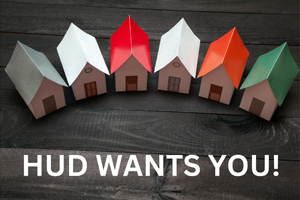 Over the years, HUD has become concerned about the number of Landlords withdrawing from their Section 8 program. So much so, that they finally asked Landlords why they are leaving. From feedback received across the county, HUD has begun implementing initiatives to retain and increase Landlord participation. Each Housing Authority is semi-autonomous and is working to on these initiatives:
Initiative #1: develop and carry out methods of locating and attracting new landlords and for trying to get landlords who left the program back
Initiative #2: implement policies, activities, and incentives to increase landlord satisfaction for those currently participating in the program.
Initiative #3: listen and respond to landlords concerns and interests through better communication, policies, forms, processes, and outreach while maintaining the value of the Housing Authority and the voucher family.
Initiative #4: implement strategies and educate landlords on their roles and responsibilities in the areas of leasing, tenancy, tenancy termination, and the voucher program.
Initiative #5: Develop methods to improve the landlords' experiences around inspections, including scheduling appointments. Inspection delays, inspector-landlord relations, housing quality standards, inspection responsibilities, deficiencies, reporting, remedies, costs of inspections, and rent abatement.
Initiative #6: minimize and streamline bureaucracy while maintaining the required compliance
with program rules, regulations, and legislation to ensure the program operates legally, fairly, transparently, and consistently.
The Housing Authorities realize they must be more flexible with Landlords if they want more participation. Here, recently, the Atlanta Housing Authority held a Landlord Symposium, which in my opinion, was a complete success. They provided information to the landlords and listened to our concerns. We were able to secure contacts of which whom we could call should we run into issues. Is there room for improvement? You bet – it's the government. But if HUD and landlords keep communication open and work together, the Housing Choice Voucher program will have more homes in it than can be filled.