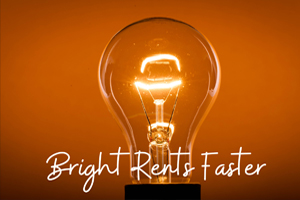 Brightening up your rental will help get it rented so much quicker. Here are some simple tricks we use to add more light to our rentals.
1) If there are blinds on the windows, we will turn the slats upward. This small trick allows natural light to enter the home and bounces off the ceiling, brightening the entire room. We prefer not to have all the blinds open so the home doesn't look unoccupied from the street.
2) Use LED or "daylight" light bulbs. We change all the lightbulbs throughout the home using the same warmth so there is a visual consistency from room to room.
3) Put light bulbs in all the light sockets. We install 40 or 60 watt bulbs, using the same wattage in each fixture.
4) If there are draperies on the windows, we open them. We will use tiebacks if they don't stay open on their own. If they are not custom, we will remove them but leave the rods for the tenant to use.
5) Add a small table and lamp with a timer in a living room that has no light fixture. We set the light to go on during the day so the room is lit during a showing.
6) When our housekeeper cleans the homes just prior to listing, we have them clean the windows, both inside and out (if they are able to reach them). You would be surprised at how much weathering can affect the brightness of your home.
7) If you are painting the interior, use a light color. We use Accessible Beige in all our rentals where painting is required.
8) If possible, trim any bushes obscuring windows. It's a safety feature, too!
These are just a few of our tricks that help us rent our homes faster.