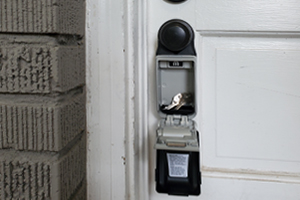 SELF-SHOWING LOCK BOXES. Should you use them?
Nothing is more aggravating then traveling to your rental for a showing only to have the potential tenant NOT show up or even call you.
New technology has brought SELF-SHOWING LOCK BOXES to the market where tenants can make their own arrangements to view your rental and let themselves in. But exactly, how does this work?
A self-showing lock box is placed on your home (usually doorknob) with a key inside. Your advertisement includes the 800 number and codes associated with that property. The potential tenant sees your ad and calls the number. They are instructed to send in a photo id and may even have to answer some pre-qualifying questions. Once everything is received, the potential tenant is given the code good for their scheduled time and for a set number of minutes. Done!
Pros: Very convenient! Potential tenants can view the home on their own time and your time is freed up. In addition, you get notified that someone has scheduled a showing and when the lock box is opened.
Cons: Unsupervised showing present security concerns. If you have anything of value in the home, you increase the chances of it being stolen. Potential tenants planning to take something will often leave a back door or window unlocked for later entry, or may not put the key back in the lock box. In addition, there's no one answer questions or point out the great features your rental may have. And, lastly, you don't get the opportunity to meet your future tenant before they sign.
We have used self-showing lock boxes but we no longer use them. We used 3 different companies that offered various enhanced features but with each company, it required us to go to the property after each showing to ensure the key was put back in the lock box and that the home was secure – there really wasn't any benefit at all.
So, what happened to us? One home had been completely remodeled and the stainless steel appliances were stolen. The neighbors said they saw the truck and guys removing the appliances but thought they were the movers. Another home had been visited by a disgruntled past tenant and they damaged the interior to the tune of over $3000. In another home, the potential tenant just took over the home – squatters, of all things. We had to file eviction.
Today, we only show homes with a licensed agent. It can be a hassle and a real time waster. However, we know these things: 1) the rental home we manage is secure after each showing, 2) tenants that show up are serious about renting, 3) every visit gives us the opportunity to do a light cleanup and neighbors see we are around, and 4) we get to meet the potential tenants and sell the great features of the rental home.