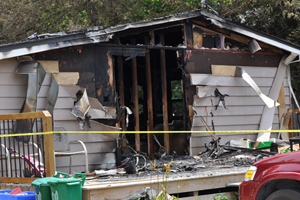 A rental property is a HUGE investment and along with it comes the need to protect it as well as yourself.
Landlords are responsible for maintenance upkeep, are at risk for accidents that occur anywhere on the property and become responsible for the tenants safety as well as their guest's. Therefore we require owners to have landlord insurance on their property and strongly recommend a minimum liability of $300,000.
Homeowners insurance covers your possessions in the case of a break-in, damages from a fire or other disasters, and financial responsibility if a person gets hurt on your property, but if you're renting a property, your insurance company will require different coverage in the form of Landlord's insurance, which insurance companies consider "riskier". Landlord insurance will protect you from damages, accidents and financial losses that occur on tenant-occupied properties.
The basic landlord policy coverage is more narrow as it covers mainly the structure and liability. Policies vary depending on the type of property, but typical coverage includes the building, other structures that may be on the property, the landlord's possessions (appliances, etc), and damages from fires, floods and theft. You might want to discuss additional coverage such as an umbrella policy that covers all your properties, including your personal residence. Because it's riskier, landlord insurance costs as much as 20% more than homeowners insurance, and will vary with additional coverage and deductible amounts. Because Landlord insurance does not cover the Tenant's belongings, we include a clause in the lease that makes the tenant fully aware that they are responsible for their own stuff. We do encourage all our tenants buy renter's insurance.
What Your Policy Should Include
All Risks Provision: Basic Landlord policies only cover natural disasters (fire, windstorms, tornadoes, and floods) but a policy with an All Risks Provision includes additional coverage on theft, vandalism, and malicious mischief. So, if your tenant damages your property or there is a break-in while it's vacant, your policy will cover the damages. Increase your liability coverage: Basic liability coverage is generally $300,000 but most insurance companies recommend $500,000 to $1,000,000 for very little cost.
Add Your Property Management Company
You should add us to your policy as an "additional insured" so if there is a lawsuit, your insurance carrier will cover you and your property manager. There are no additional costs to add our company.
Umbrella policies
If you have multiple investment properties, talk to your insurance company about obtaining an umbrella policy that covers everything - it's inexpensive for the additional coverage you get. If you need coverage for your rentals, contact us and we will direct to you our best sources for Landlord insurance. Sourced from Jennifer Chan, marketing specialist at Zillow