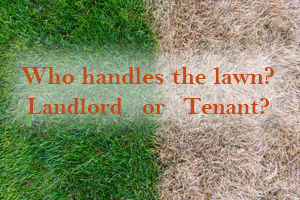 Who should handles lawn care? Over the years I have had the tenant take care of the yard ... but! Tenants don't do a grood job if they do it at all. Recently, I have had a change of plans. I'm now handles the lawn care maintenant and charging the tenant extra or it is included in the rent. However, tenant's must water the yard.
So, how am I enforcing it? I've sent written notices to all my tenants reminding them that they are resposnible for the lawn. If, during a drive-by, we notice that the lawn is in distress, i will send my crew to handle it and bill the tenant. We will then maintain the yard at the Tenant's expense. If we notice that the lawn isn't watered, we will turn the water on and leave it for the tenant to turn off. They incur all the water expense.
I make sure to mention that when moving from an apartment into a home not only gives them more privacy but also gives them more responsibility.